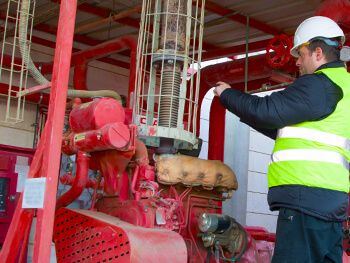 Dalmatian Fire performs NFPA 25 monthly visual inspections, quarterly sprinkler inspections, annual sprinkler inspections, 5 year sprinkler internal pipe inspections, fire pump testing and inspection, hydrant inspection and testing, along with backflow preventer testing.
Dalmatian Fire offers full time trained professional and licensed technicians who perform inspections and sprinkler system maintenance every day.
Even if you have an excellent maintenance person, the life safety system that fire sprinklers provide should not be left to chance.
Would you want the fire sprinkler system in the school your child attends to be inspected by anyone other than a licensed certified professional?
When the local fire marshal or your insurance company asks for your fire sprinkler system inspection reports, just call Dalmatian Fire. We understand time is of the essence and will contact the authority having jurisdiction or your insurance company to let them know you have started the process of having your fire system inspected.
We are familiar with the most current wet sprinkler system inspection guidelines and the full range of other standards germane to fire sprinkler system inspection. Whether inspecting residential dwellings to NFPA 13D/NFPA 13R code, or ensuring your property is in line with Indiana, Ohio or Kentucky state fire codes, please contact us to make sure your fire protection systems are in optimal working condition.