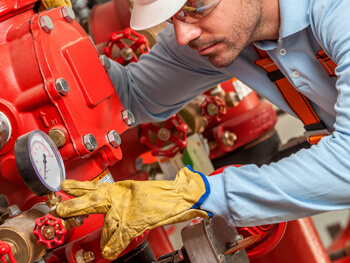 It wasn't too long ago that backflow preventer valves were not required on fire sprinkler systems. A regular check valve or alarm check valve would do the trick.
Even though there were never any reported problems with this arrangement, water companies became more concerned with the possibility of the contaminants in the public water supply.
Virtually all sprinkler systems that tie into city water supplies have backflow preventers installed today.
There are a few types of backflow preventer valves and assemblies used: Double Check Valve Assemblies (DCVA), Double Detector Check Valve Assemblies (DDCVA or DCDVA), Reduced Pressure Zone Assemblies (RPZ or RPZA), Reduced Pressure Detector Zone Assemblies (RPZDA).
There are also different configurations and valve choices that are available. These must meet your local water company requirements and are usually required to meet USC or other approvals.
Along with the proper backflow preventer valve, the water company and NFPA 25 require periodic backflow preventer testing to insure it is working properly.
The water company's concern is backflow prevention, while NFPA 25's concern is that the check valves open when needed. An unused backflow preventer valve that is not operated periodically may not open when you need it most. It is a requirement to have Certified Backflow Testers perform these tests. Dalmatian Fire's Inspectors are ALL Certified Backflow Testers and are all thoroughly knowledgeable of standards and codes, including Indiana, Ohio and Kentucky fire codes.